GENUINE NISSAN BRAKING POWER
Your braking system is the most critical part of your vehicle. Just as your fuel economy will vary subject to how and where you drive, therefore it is with the lifespan of brake pads, the material that gets pushed against a disc or drum assembly to stop your car.
Browse through our new and used inventory on our website or come down to our dealership to discuss your options with our experienced sales team. We can help you decide which Nissan best suits your needs and lifestyle, not to mention your budget. We carry a full range of new Nissan vehicles; we also offer a large selection of fully inspected used Nissan for pre-owned car buyers. Our service to you does not end once you leave the dealership with your new vehicle, we will always be there for you to deliver quality Nissan service and repairs. It is essential to carry out regular maintenance on your Nissan to maintain its value and keep it running in as-new condition. Our service technicians can take on any job, from a wiper rubber change to a major engine overhaul. Furthermore, if you want to buy genuine Nissan parts, we have a vast inventory kept on our premises. Come down and see us today and let us show you why Nissan drivers trust us for all their motoring requirements.
---
WHAT IS IT?
If you drive only a few thousand miles a year, but it is mostly in an urban environment, you will be required to replace or at the very least inspect your brake system more often than if you drive many thousands of miles a year in open, rural areas. You will use your brakes more frequently in urban situations than driving on a rural highway. Regrettably, no pre-set schedule tells you when it is time to replace your brakes, so you need to trust your ears and the advice of a professional automotive technician. As a rule of thumb, most vehicles will have their tires rotated every six months or so, and that is an excellent time to have the brakes inspected. A technician can check if the remaining material of the pads is adequate and the condition of the brake discs or drums to see if any wear is evident.
Many vehicles today have in-built wear devices that scrape against a brake drum or disc when the pads or shoes need replacing. An annoying noise will emit when you apply the brakes giving you an audible warning that the brakes are worn out. Other signs are pulsing felt through the pedal, longer distances required stopping the vehicle, or when you press the brake pedal to apply the brakes, the pedal goes down further. Because brake pads and linings wear slowly, you may not notice the decrease in function, so that is where the professional assistance of a technician can help. All vehicles have a brake warning light that illuminates briefly every time you start your car. If the warning light comes on while operating the vehicle that more than likely means your braking system has a fault or is low in fluid, or has a problem elsewhere in the system. If this occurs, have the system checked by a professional as soon as possible to avoid accidents or harm to the vehicle.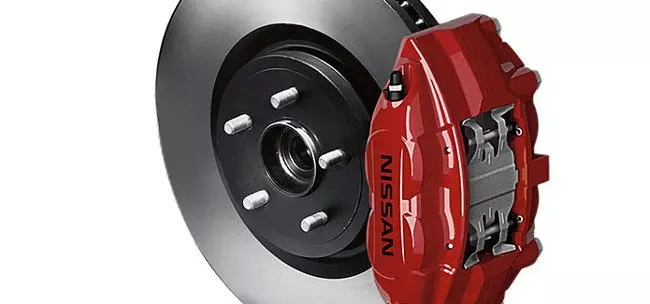 WHY BRAKE SERVICES ARE IMPORTANT IN WINTER?
Owning and operating a car in winter is an essential time of the year for vehicle servicing, particularly, when it comes to inspecting and servicing your car?s brakes. Freezing rain, ice, snow, sleet, and black ice make driving a hazardous activity. Without a reliable braking system and a decent set of tires, your vehicle can be a danger to yourself, your passengers, and to other road users.
Winter brake servicing is essential for safeguarding that you can drive safely during colder conditions. Vehicles often have to stop quickly when snow and ice are present on the road. When this occurs, you need to know that your vehicle's brakes will help you stop promptly. Winter will be the time that you may vacation, and you will load your vehicle up with passengers and extra luggage, therefore, increasing the weight of the vehicle and its braking ability. Have your brakes inspected before any long trips to ensure the safety of you and your passengers.
If your Nissan won't stop when you press the brake pedal, immediately pull over and call a tow truck to bring it to the dealership. Your brake pads are likely worn down and are no longer operational.
While the lifetime of your brakes depends heavily on your own driving habits, brake pads usually last between 30,000–35,000 miles. Since the average driver drives around 15,000 miles a year, you should think about replacing your brake pads every 2 years or so. Of course, you can always bring your brakes in to the service center at Regal Nissan for a check up and replacement, if necessary!
You can bring your Nissan to the service center at Regal Nissan any time for a brake inspection! We'll also perform a brake inspection whenever you come in for Nissan service, and let you know if your brakes need repairing or replacing.
Turning brake rotors is a good way to get extra life out of the rotor and ensure it wears evenly. When you'll need to get yours rotated depends on the way you drive as well as the wear and tear of the brake pads, but you should generally get your rotors turned every two brake-pad changes.